With the autumnal chill here to stay and the skies outside a soft gray, I put
the tights
back on, this time with a simple tank, and tried to discover the mystery behind why I never recycled the October 2006 issue of
InStyle
.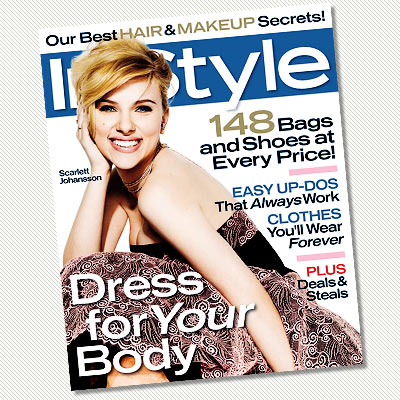 The first thing I noticed about this magazine was its weight. I forgot that pre-
financial clusterfuck
even non-September issues could be hefty. On the cover, as was the case for most fashion magazines by that point, was an actress. In this case it was
Scarlett Johansson
who had two movies being released that fall. (I've seen them both. I highly recommend
The Prestige
.) But her presence, no matter how pretty, wouldn't have been the reason I kept the magazine. I tended to skim the interviews with actresses. Or skip them altogether.
The advertisements featured many of the faces that were popular in
the fall of 2005
. There were actual models, not actresses, for
Louis Vuitton
. What a novel idea. A cadre of Supers,
Kate
,
Christy
,
Angela
,
Carolyn
and
Daria
, wore all black for
Versace
. Also light on the actress front was the
Audrey Hepburn
inspired black pants ad for
Gap
. (I bought a pair of those pants. I wore them once.) It took 111 pages to reach the first real story in the magazine. I doubt we'll ever see those days again, but I'm a pessimism-leaning realist.
I realized that if I kept up with the intense analysis of the ads this was going to take all day. So the skimming began. Past the horoscope that let me in on the fact that I was
looking forward to dressing for fall
and should, therefore, head to the gym. Past the
Zach Braff
"Man of Style" story that reminded me that I stupidly paid money to see
The Last Kiss
in theaters. Skim. Skim. Skim. Stop.
The title of the story was simple. Coats. Eight pages that made this New England girl giddy. A high necked black
Alberta Ferretti
that might now remind one of
Mad Men
. A double breasted houndstooth
Martin Grant
. And then there it was. The one coat that had saved this magazine from the discard pile.
I spent most of that fall lusting after this
3.1 Phillip Lim
coat. His line was only a year old at the time, but it had quickly become one of my favorites. I was temping that fall. Wearing business casual clothes that I hated every day. Answering phones and swimming in a sea of ennui. But this coat, with its camel color and the fur at its collar, was everything that my life wasn't.
So I kept the magazine. It gave me the chance to look at it whenever I wanted.
And that bit of escape was what I needed at the time.
Photos via, via